Your IMAP/POP3 Emails Without Viruses and Spam
With SmartPOP2Exchange you download emails from POP3 and IMAP accounts and forward them reliably to an Exchange or any SMTP server. The smart connector also allows you to integrate your catchall accounts. The emails pass through an extensive control system including virus and spam scans and you decide, whether they are downloaded continuously or time-controlled.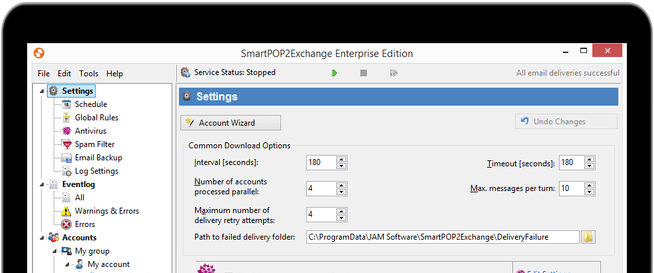 Reliable Spam and Virus Protection
99% spam detection with renowned SpamAssassin and ClamAV - integrated anti-spam and anti-virus.

Comprehensive Rule System
Flexible, powerful and easy to apply - just like in Microsoft Outlook. Enjoy easy processing of emails!
Time-controlled or Continuous Email Retrieval
Automatic parallel processing of multiple email accounts.
Are you using POPcon and looking for a new IMAP connector? SmartPOP2Exchange is a great alternative to POPcon and POPcon Pro!
Not only is our solution much faster, SmartPOP2Exchange is more stable and continuously equipped with new great features. Start exporting and transferring your POPcon accounts with our tool.
Different Versions for Different Requirements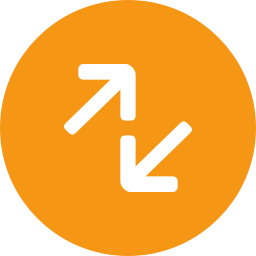 SmartPOP2Exchange
Small Business Edition
Integrated spam/virus filter
Retrieve more than 10 accounts
Load emails from files (pickup folder)

SmartPOP2Exchange
Enterprise Edition
Integrated spam/virus filter
Retrieve more than 10 accounts
Load emails from files (pickup folder)
Compatibility
SmartPOP2Exchange runs on any edition of the current Windows operating systems (64-bit only) and supports any desired SMTP Server. Due to the fact that SmartPOP2Exchange can be installed independent of the receiving SMTP server, it is not required to install SmartPOP2Exchange on the same SMTP server.
An easy to use configuration tool allows you to adjust common settings like download interval, timeout etc. and to add, delete or configure your SMTP/Exchange and POP3/IMAP accounts.
Optimize the Processing of Your Emails in Exchange
For the best possible email processing and the maximum spam and virus protection directly in the Exchange Server we offer Exchange Server Toolbox - Anti-Spam & -Virus, Backup and Rules Engine for your Exchange Server. Compare our POP3 Connector to the Exchange Server Toolbox and learn how they complement each other! Exchange Server Toolbox and SmartPOP2Exchange work best in combination!
Protect your inbox from unwanted and dangerous emails and create legally compliant email archives!
More Information and Documents
Get more information on the functionality of SmartPOP2Exchange, compare our smart POP3 / IMAP Connector with other available connectors on the market, have a look on your license information and perfect your email processing and security!